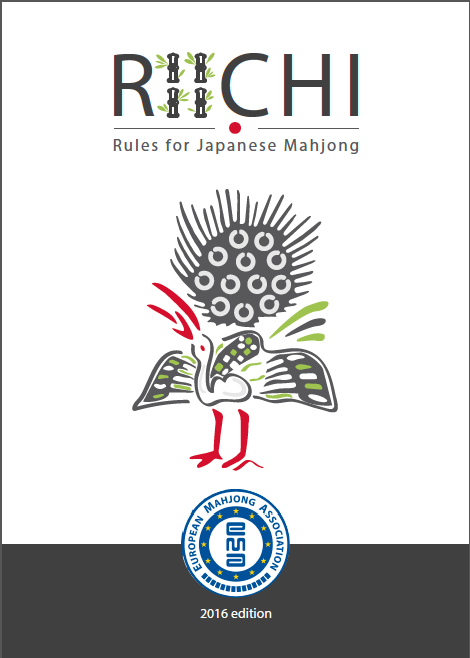 Revised EMA Riichi rules are ready. The rules will come into effect on April 1, 2016.
Motivation for the rule changes is to be in line with modern style riichi as it played in competion riichi in Japan and the World Riichi Championship 2015 rules have been the main inspiration.
The rules are available in a preliminary document while further layout and graphics is made in collaboration with Sheila Hansen who also designed the front page.
Main changes since the 2012 edition:
Red fives have been removed
Tanyao (All Simples) can be an open hand
Renho (Blessing of Man) is a mangan, not a yakuman
Dai suushii (Big Four Winds) is a yakuman, not a double yakuman
A hand with 13+ fan is scored as a sanbaiman, not a yakuman
The 3 second timing rule is removed
Swap-calling is not allowed
Temporary furiten ends when the player draws or claims a tile
Five counters implies two yaku: the rule is removed
Abortive draws are not allowed
Nagashi Mangan is not allowed
Uma is changed to 15,000/5,000/-5,000/-15,000
Chombo penalty in a tournament is 20,000 points deduction after uma
Penalty rules are slightly more lenient in some cases
Differences to World Championship Rules 2015
Multiple winners are allowed
4-30 is not rounded to mangan payment
Timing rules differ; EMA: pung takes predence over chow
Riichi bets at game end go to the winner
Best wishes for a Merry Christmas and a Happy New Year!